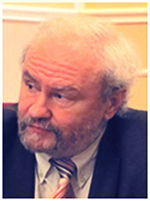 Flier Andrey Yakovlevich,
Doctor of Philosophy, Professor,
Chief Researcher
of Education in the sphere of Culture
of Likhachev Russian Research Institute
for Cultural and Natural Heritage
Theory of Culture as Philosophy of History
Abstract: The article explores on cultural theory's cognitive orientation on the analysis of patterns of historical development, on understanding and interpretation of the meaning of history in the context of cultural meanings. The article also presents author's concept of specific role of culture in the evolution of biological life on Earth, which is built in line with the ideas of social synergy.
Key words: culturology, theory of culture, philosophy of history, past, present, future, meaning of history, meaning of culture.
[1] Styopin V.S. Theoretical Knowledge (Its Structure and Historical Evolution). Moscow: Progress-Tradition, 2000.
[2] Yerasov B.S. Civilization: Word – Term – Theory // Comparative Studying of Civilizations. Moscow: Aspect-Progress, 1998.
[3] Grant, Verne. The Evolutionary Process. A Critical Review of Evolutionary Theory. N.Y.: Columbia University Press, 1985; Semyonov Y.I. Philosophy of History From Its Origins To Our Days: Key Issues And Concepts. Moscow: Stary Sad, 1999.
[4] Haken, Нermann. Principles of Brain Functioning. A Synergetic Approach to Brain Activity, Behavior and Cognition. Berlin: Springer, 1996; Moiseev N.N. Universum, Information, Society. Moscow: Ustoychivyi Mir, 2001.
[5] White, Leslie Alvin. The Science of Culture: A Study of Man and Civilization. N.Y.: Farrar, Straus and Cudahy, 1949.
[6] Danilevsky N.Y. Russia and Europe. A look at the cultural and political relations of the Slavic world to the German-Roman. St. Petersburg: Obschestvennaya Polza, 1871.
[7] Shilder N.K. Emperor Alexander I. His life and Reign. 4 vols. St. Petersburg: A.S. Suvorin, New Time, 1897. Vol. 2.
[8] Sklair Leslie. The sociology of progress. London: Routledge & Kegan Paul, 1970.
[9] Malinowski, Bronisław Kasper. The Dynamics of Change. An Inquiry into Race Relations in Africa. New Haven & London: ed. by Phyllis M. Kaberry, 1945; Radcliffе-Brоwn, Alfred Reginald. Structure and Function in Primitive Society. Chicago-Glencoe: Free Press, 1952.
[10] Eliade, Mircea. Le mythe de l'éternel retour. Arhétypes et répétitio Paris, Gallimard, 1949.
[11] Le Goff, Jacques. Pour un autre Moyen Âge. Temps, travail et culture en Occident. Paris: Gallimard, 1977; Le Goff, Jacques. Héros et merveilles du Moyen Âge. Paris: Seuil, 2005.
[12] Pelipenko A.A. Dualistic Revolution and Semiogenesis in History. Moscow: Moscow State University of Culture and Arts, 2007.
[13] Dyakonov I.M. Paths of History, From Early Man to Present Day. Moscow: Nauka, Eastern Literature, 1994.
[14] Habermas, Jürgen. Der philosophische Diskurs der Moderne. Frankfurt am Main: Suhrkamp, 1985 .
[15] Touraine, Alain. La Societé post-industrielle. Naissance d'une société. Paris: Denoël Gonthier. 1969; Brzeziński, Zbigniew Kazimierz. Between Two Ages: America's Role in the Technetronic Era. N.Y.: Viking Press, 1970; Bell, Daniel. The Coming of Post-industrial Society: A Venture of Social Forecasting. N.Y.: Basic Books, 1973; Fourastie, Jean. Prévision, futurologie, prospective: Cours de l'Institut d'Études Politiques de Paris. Paris: Beauchesne, 1974 и др.
[16] McLuhan, Marshall.  Understanding  Media:  The  Extensions of man. London: ARC, 1987; McLuhan, Marshall, Fiore, Quentin .  War  and  Peace  in  the  Global  Village.  N.Y.: Bantam, 1968.
[17] Kostina A.V. Mass Culture: Aspects of Understanding // Znanie, Ponimanie, Umenie, 2006. N 1.
[18] Khachaturian V.M. Second Life of Archaic: Archaic Trends in Civilizational Process. Moscow: Academia, 2009; Shtompel O.M., Shtompel L.A. Archaism in Contemporary Culture: Necessity or Chance? // Values and Meanings, 2010. N 4.
[19] See works of the leading figures in theory of Universal history: Christian, David. Maps of Time: An Introduction to Big History. Berkeley: University of California Press, 2004; Spier, Fred. How Big History Works // Social Evolution & History. 2005. Vol. 4; Nazaretyan A.P. Civilization Crises in the Context of Universal History. (Synergetics – Psycology – Forecasting). Moscow: Mir, 2004; etc.
[20] Of course, culture emerged as a new trend of organizing life much earlier, at the stage of anthropogenesis, but in was in the Upper Paleolithic when it turned into the main regulator of humans' collective life.
[21] Berlin, Isaiah. Two Concepts of Liberty // Berlin I. Four Essays on Liberty. London and N.Y.: Oxford University Press, 1969; Flier A.Y. Essays on Theory of Historical Dynamics of Culture. Moscow: Soglasie, 2012.